How to Send Survey from Sage
You can include your survey link when creating invoices in your accounting systems, such as Sage 50cloud, Sage 100cloud or Sage 300cloud.
You will need to create your survey and generate a web link first. Please refer to the articles How to create a survey and How to add a survey URL.
Let's use Sage 50cloud as the platform of our example.
Insert a survey link in the email template
1. Sign in your Sage 50cloud account by visiting https://www.sage.com/en-us/sage-business-cloud/accounting/.
2. Under Maintain, click on the Email Setup link.
3. Choose your form such as the "Invoices" item.
4. In the Message for Transaction Type textbox, insert your message with your survey link, such as https://www.surveyol.com/s/68D5E38
5. Click the OK button to save to your email template.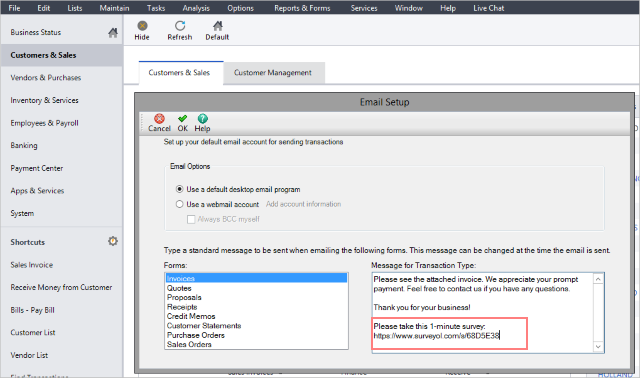 For more information about sending emails from Sage, contact your Sage support team.